This case emerged from our explorative research on inclusive business models. We have not applied the 5-steps plan on this case, but it serves as an example since the framework could be applied here.
Kwidex is a web platform that allows you to sponsor farms and agribusiness in exchange for a share of profits and returns at the end of an agri project.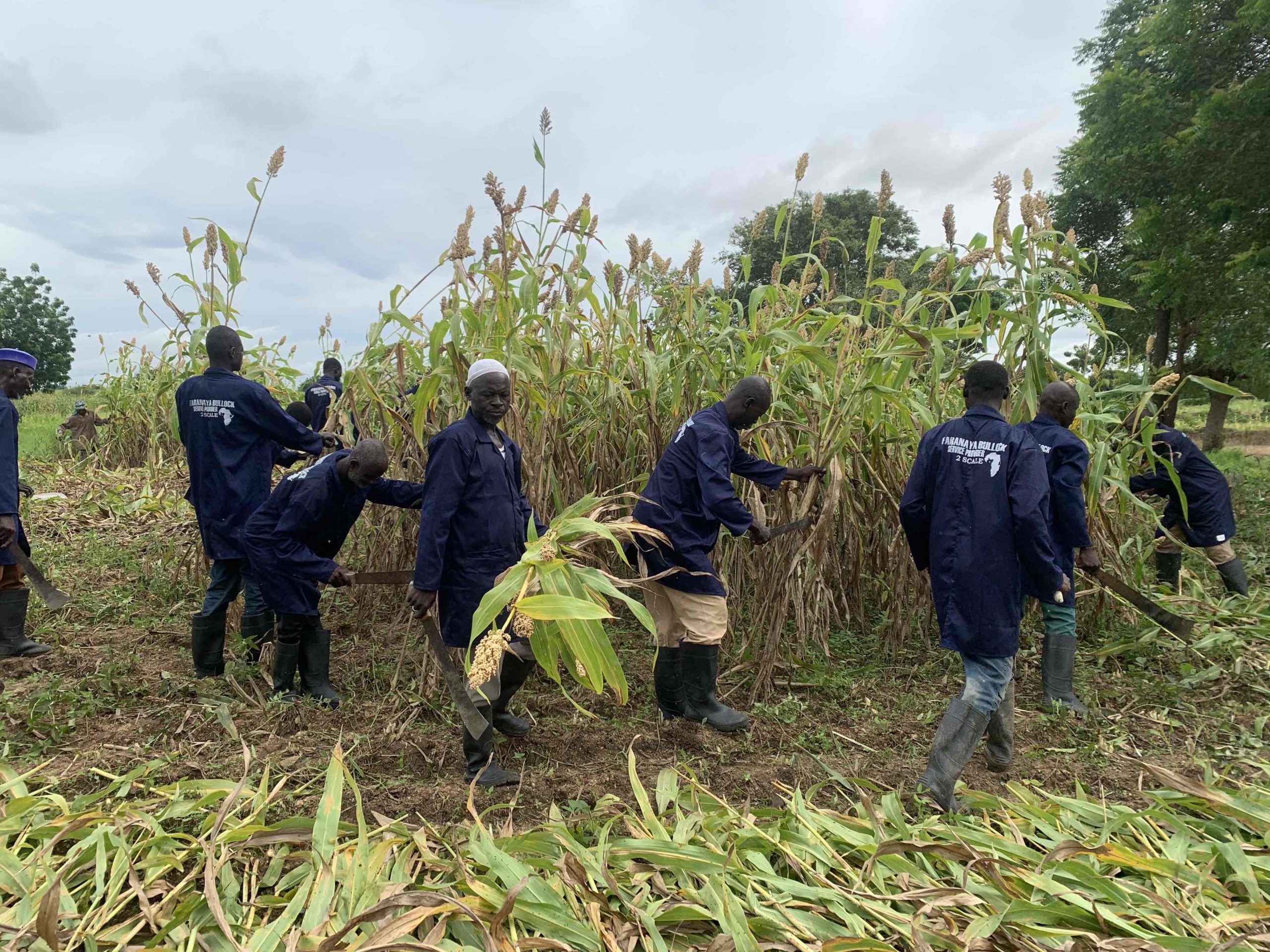 Business model
Value proposition: KWIDEX aims to improve access to finance for agribusinesses in Ghana by means of an easy-to-use online crowdfunding platform. Farmers looking for investment present their projects on the platform, where after private investors can contribute to the project in exchange for an agreed share of the profit.
Value creation: KWIDEX aims to reduce poverty by providing farmers with financial resources that usually are difficult to access due to high interest rates for bank loans and lack of governmental support. In this way, it indirectly contributes to increasing food security for the African population.
Value delivery: KWIDEX primarily facilitates attracting investment for Ghanaian farmers. It also provides additional services, among which the screening of proposed projects, (financial) monitoring of the projects, provision of relevant updates to investors, and payment facilitation.
Value capture: From all investments raised on the platform, KWIDEX charges a 5% commission for the use of the platform. On top of that, there are additional charges for (international) bank transfers, ranging between 3% to 5%.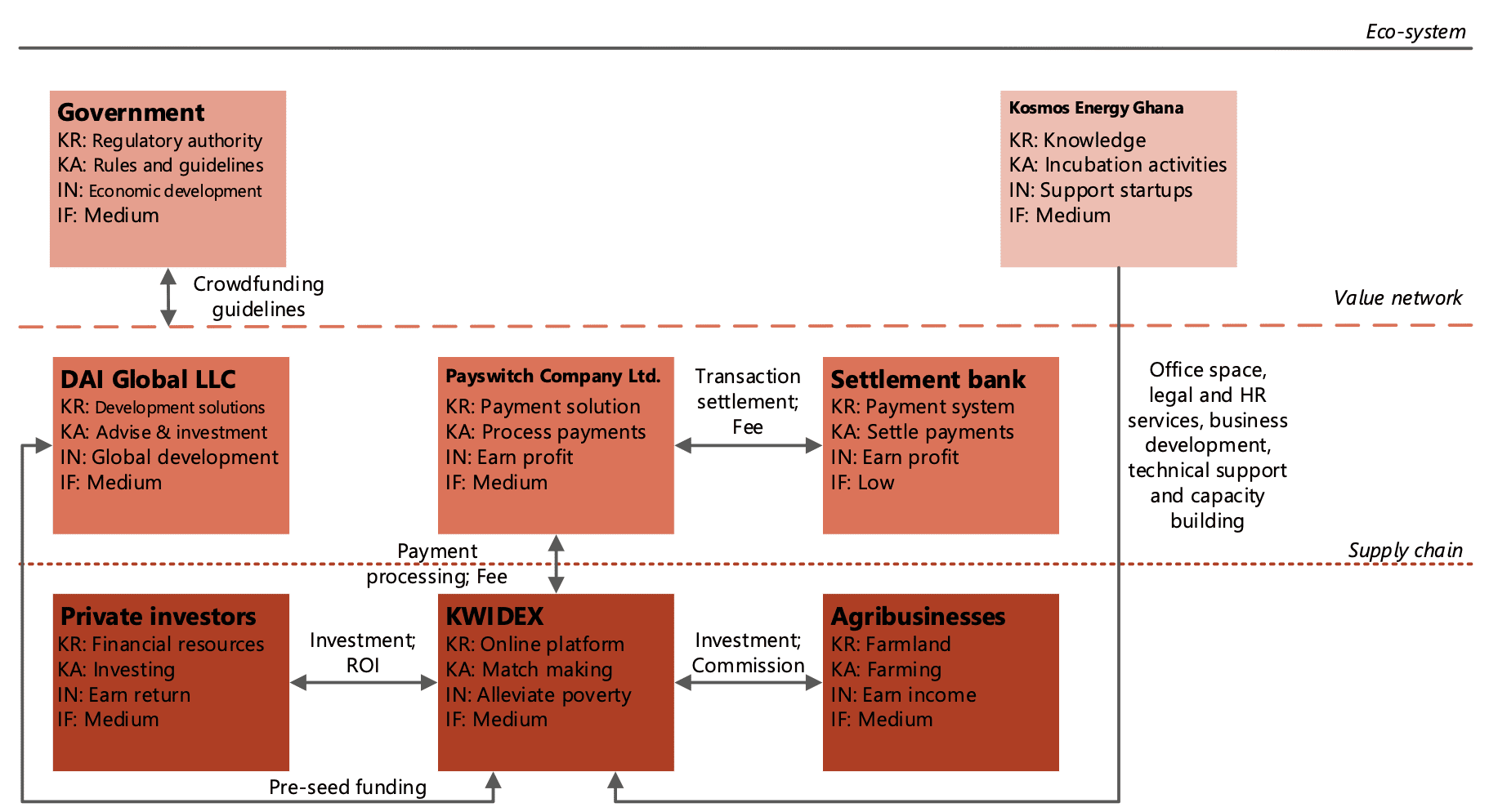 Social, economic and environmental sustainability
Social: Number of projects uploaded: more projects, more farmers can raise financial resources
Economic: Amount of funds raised: more funds raised, more farmers can grow and develop their business to earn more income
Environmental: Number of projects funded: more farmers with the resources to grow their businesses, more acres of land are sustainability cultivated.
Oppotunities in local context
Agribusinesses in Ghana experience several difficulties that result in a lack of access to finance from traditional support institutes:
• commodities do not provide enough security in terms of paying back loans
• interest rates are high (between 20 and 25%)
• no regulation in place to arrange financial support for farmers
• financial institutions only provide support to export related commodities
Crowdfunding is not (yet) heavily regulated by the Ghanaian government, but it recently developed a policy to guide and support crowdfunding platforms.
Threats in local context
• Small business owners in Ghana are usually not open to foreign direct investment and desire to be 100% in control of their own business
• Online illiteracy may withhold some farmers and investors to work with the platform
• Most likely more online crowdfunding platforms will be created in the future, resulting in more competition for KWIDEX.
• Farmers are dependent on European and American market to sell their commodities.
Scaling ambition
"In the future, KWIDEX wants to facilitate the increased the increased adaption of the online crowdfunding platform by agribusinesses in Ghana and international private investors for the purpose of reducing poverty and improving food security."
Scaling strategies
▪ Entering new African countries
▪ Improve additional service offerings
▪ Increasing the raised commissions by attracting new farmers / investors
Scaling strengths
▪ The online crowdfunding platform is effective and easy to use
▪ Automate the screening process of agribusinesses' projects using credit scoring
▪ Farmers should meet certain KPI's to get access to their funds
▪ It is the first (and only) online crowdfunding platform for farmers in Africa
▪ Social media and referrals are used to attract new farmers investors
▪ Crowdfunding is a good alternative to provide financial access to farmers
▪ Explore alternative payment methods together with payment service providers
Scaling weaknesses
▪ Not all farmers are willing or capable (enough) to use an online platform
▪ Platform should fit to different African financial regulatory frameworks
▪ Crowdfunding platform should be available in different languages
▪ Employees are just out of school and 'learning on the job'
▪ Copying from best practices in crowdfunding limits first-mover advantage
▪ Experimental approach and lack of business planning for scaling strategies.