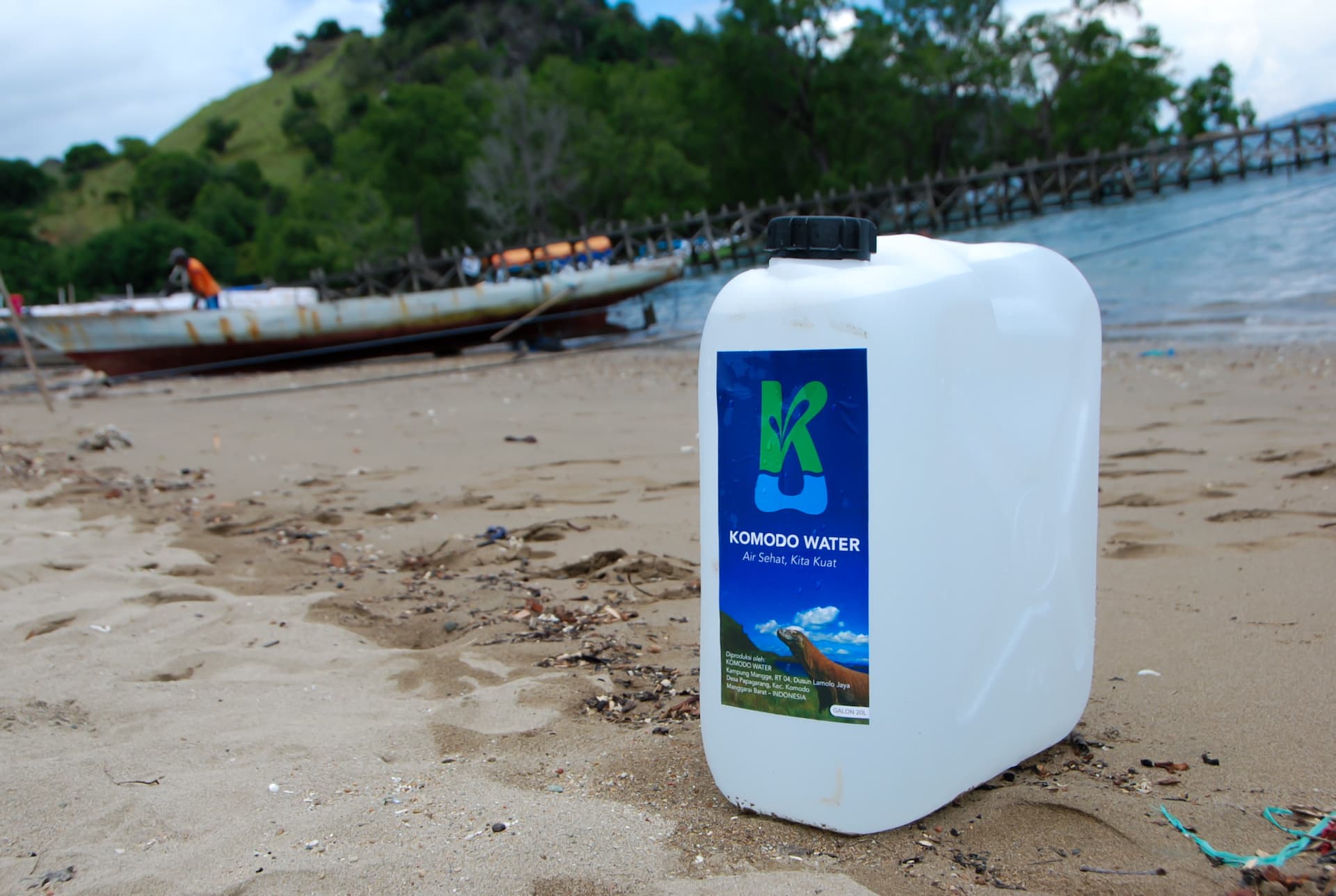 | | |
| --- | --- |
| Organization name | Komodo Water |
| Organization type | Social Enterprise (part of the Tinamitra Mandiri Group, Jakarta) |
| Date of incorporation | 2010 |
| Country of operation | Indonesia |
| Link to Netherlands | Funding partly from the Netherlands (ENDEV programme), support from Dutch research institute. |
| Size | +- 10 employees |
| Industry | Clean water and energy provision |
| Sustainability type | Social business model |
| Profit orientation | For-profit |
| BoP involved as … | Consumers, employees, local operators, market access via local businesses |
This case emerged from our explorative research on inclusive business models. We have not applied the 5-steps plan on this case, but it serves as an example since the framework could be applied here.
On the Komodo islands in Indonesia, Komodo Water provides affordable, reliable, healthy and clean fresh water and ice solutions via solar PV to local fishing communities. The only available other water source on these islands is coming from brackish water wells, which are often unclean and can cause health complications. In developing countries, about 80% of illnesses are linked to poor water and sanitation conditions. One out of every five deaths under the age of 5 worldwide is due to a water- related disease. Clean and safe water is essential to healthy living. Ice is necessary for preservation of fish. Clean drinking water can be bought on the mainland (2 hours by boat), for five times the price that Komodo Water offers customers.
Komodo Water sells clean drinking water directly to individuals on the islands as well as to local businesses who have a larger market access. Local governments and health workers educate communities on the importance of clean drinking water and clean ice and help in the distribution of the clean water. Komodo Water supports the local economy through increasing health, employing locals and involving local businesses in the sales activities.
The business model
Business model elements
Komodo Water's value proposition is "affordable, reliable, healthy and clean fresh water and ice solutions via solar PV to local fishing communities". The products that Komodo Water offers include clean drinking water in 20L jerry cans and ice packs. Komodo Water installs (i) reversed osmosis facilities powered by solar PV on islands that transform sea water or water from brackish wells into clean and healthy drinking water and (ii) ice makers that transform clean and healthy drinking water into ice packs for preservation of fish.
The main alternative for clean and healthy drinking water is to buy water on the main island at the port Labuan Bajo (2 hours by boat), for five times the price that Komodo Water offers.
Value proposition
Clean drinking water is essential to maintain good health. On many of the Komodo islands the only available water source on the islands is brackish water from local wells, which can lead to serious health problems. On the main island at the Labuan Bajo port (2 hours by boat) purchase of clean drinking water is possible, for five times the price of Komodo Water's locally produced water.
Komodo Water provides access to clean water and ice, by transforming the current local water sources into clean, fresh and safe drinking water sources based on an environment sustainable approach. Komodo Water provides water quality by employing suitable and reliable technologies to the serviced communities (reversed osmosis via solar PV). The enterprise also provides a much needed additional income source for the local community by water sales to local businesses and opportunity to preserve fresh products longer via ice packs. Clean drinking water is sold in jerry cans of 20 liters for 5000IDR (0,33EUR). Transportation and distribution system is set up via fisherman boats and water sales agents on the islands, contributing to job creation on the island.
At the moment, Komodo Water is not profitable and dependent on donations. Installation of a reversed osmosis facilities costs around 2000 million rupiah (131.000 EUR). Maintenance is needed a few times per week and is done by both locals and Komodo Water maintenance teams. The installations on the islands produce 5m3 water per day (5.000liters/day). When the whole capacity is sold every day this would result in 1,25 million IDR (870EUR) per day. However, currently only 20% of the fresh water is sold daily. Many villagers still prefer water from the drinking well since it's either closer to their homes, or they cannot afford the prices of clean drinking water or they are not aware about the benefits.
Value network
The value community consists of Komodo Water itself, their employees and customers as well as the local village government, local shops, fishermen that distribute the clean water/ice and local health workers. They all contribute in creating financial value for locals and Komodo water as well as social value (through increased health by using clean drinking water).
This creates more local employment, increases preservation of fish and increases economic output, while protecting the environment. Komodo Water's ice is expected to last longer than normal ice packs, allowing fishermen to go fishing further from areas where they reside. Local shops and distributers can generate additional income via sales and local maintenance employees generate additional income as well.
Komodo Water
Komodo Water is a social enterprise, offering affordable, reliable, healthy and clean fresh water and ice solutions via solar PV to local fishing communities. Komodo Water is currently mainly operating on the Papagerang island and is looking to expend their services to other islands in the Komodo archipelago.
Local Government
The local government's main task is ensuring welfare of its constituents. Their interest is to use Komodo Waters value proposition to increase health and sanitation of the inhabitants of the Komodo islands. Their key incentives to support Komodo Water is that clean water and sanitation is an important step in poverty alleviation.
Village businesses
Local village businesses have a larger outreach than Komodo water itself. Sales to communities can be done via local village businesses, which means that Komodo water does not have to distribute all the water and ice by themselves. Village businesses benefit from this since they can make a small commission on the sales.
Donor organizations
Donor organizations are offering Komodo Water either financial aid or give advice or provide political support or access to their network. Their incentive to be involved is the believe that clean water and sanitation is one of the first steps in poverty alleviation and that remote rural areas are best served via local renewable energy solutions that produce clean water and ice in an environmental friendly manner.
Local operators
Some of Komodo Waters energy and water services require daily operation. For this local operators are trained and are also paid for their labour. The incentive for the local operators to participate is creating a stable income.
Technology providers
Komodo Water requires specialized equipment and machinery for their energy and water solutions which are bought from technology providers in a joint venture relationship. The key incentive for the technology providers is making a profit while contributing to the sustainable development goals.
Customers
Clean water and ice provision will increase the health of customers and prevent several diseases. The availability of water will make improved sanitation possible, while the availability of ice will make preservation of fresh products possible.
Collaborative processes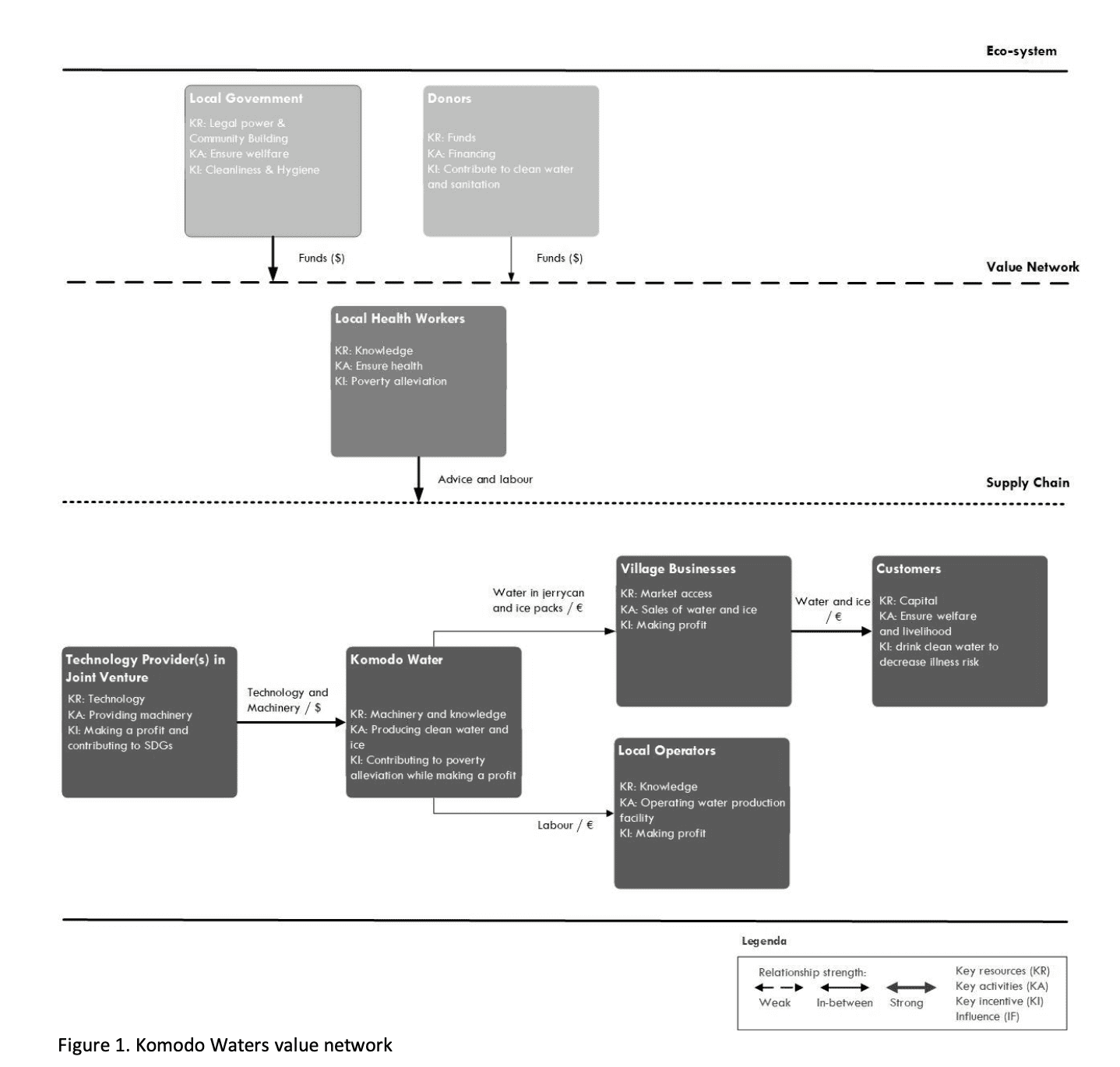 The local context
The islands Komodo is active on are located in the West Manggarai Regency. Which is one of the eight regencies which divide the island of Flores, located in the province of East Nusa Tenggara (Nusa Tenggara Timur) in Indonesia. It covers a land area of 2947 km2, and has a population of 256 491. The regency's capital is the town of Labuan Bajo. The regency includes the western portion of Flores island (Pulau Flores) and several small islands mainly lying to the west of it, including the two largest islands, Komodo (Pulau Komodo) and Rinca (Pulau Rinca).
The West Manggarai Regency, along with other nearby regencies on Flores, has a long and hot dry season. Programs of tree-planting have been initiated in recent years which are helping improve the local environment. These activities include efforts to promote continued attention to the cultivation of sugar palms (Arenga pinnata).
Education facilities in the region are limited, especially in the outlying areas. Some non-government organisations help, for example, with the provision of books for children to isolated villages. Various local community groups in different parts of the regency work to promote the local tourist industry through, for example, the development of local dance troupes and foods from local areas. Especially the Komodo islands are a famous tourist destination because of the rich flora and fauna found on land and in the ocean
Currently Komodo Water is mainly active on the Papagerang island, which has roughly 1500 inhabitants. The water and ice that are produced on the island are also sold to other islands.
 Opportunities & threats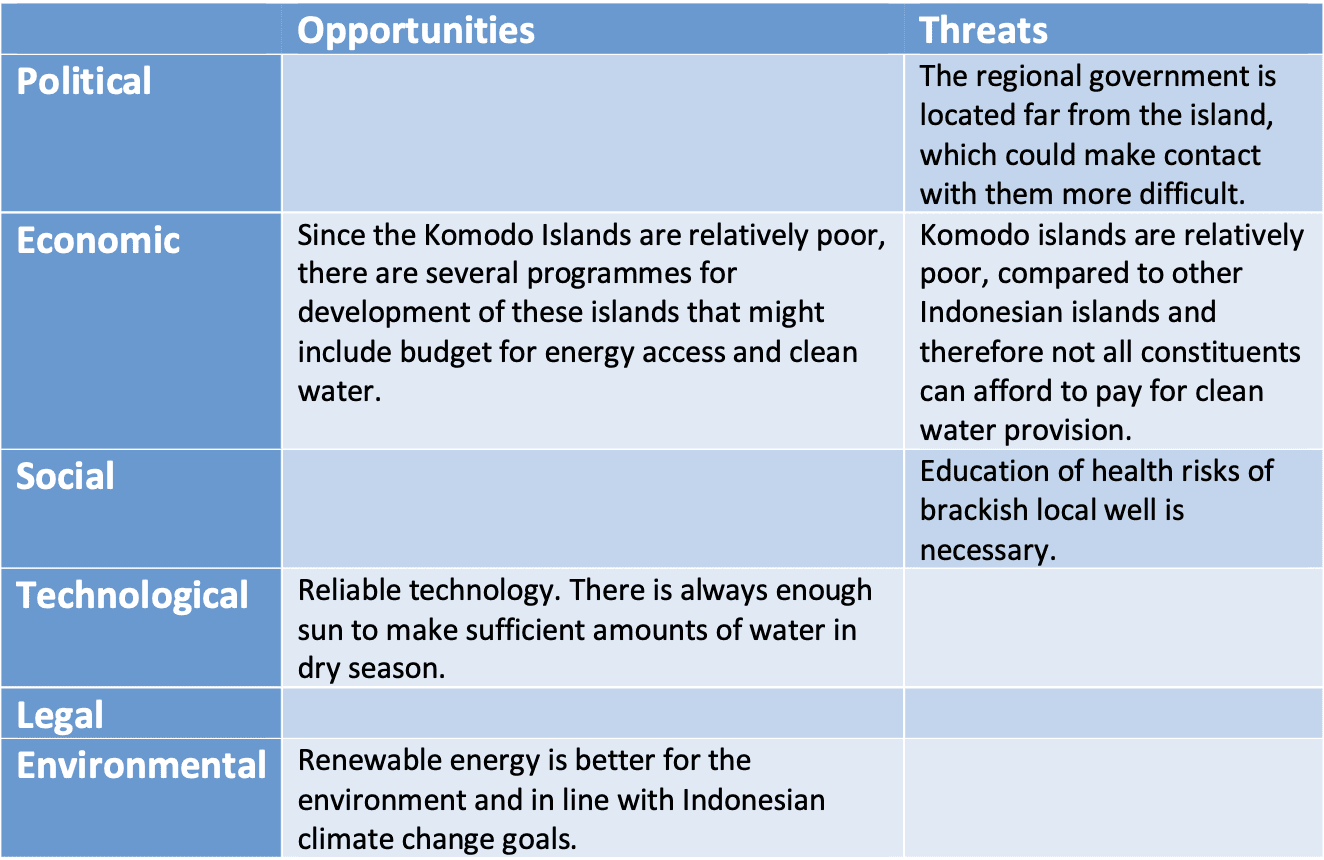 Business model scaling
• Komodo wants to create a more solid sales system of water and ice, by better training of sales agents and better promotion.
• Komodo water wants to expand their water and ice solutions to other islands to increase their market reach and improve living conditions on other islands.
• Komodo water wants to diversify its business model by increasing ice sales.